With sunshine and warmth on the horizon, now is a great time to send the winter blues packing and freshen up your office space.  A good spring cleaning is a great way to boost morale, productivity, and efficiency, while at the same time helping your employees work together towards a common goal.  Your office is sure to feel brighter, lighter, and much more organized after a deep clean, so follow these tried and true tips to make your workspace a more positive place to be.
Rally Your Staff
The first step in organizing a successful spring cleaning for your office space is to get your entire staff on board.  Working together as a team is a surefire way to get the job done quickly and efficiently.  Start by making a list of all of the goals you would like to have accomplished.  Let your staff decide where they think they would be most effective, and assign any tasks that aren't chosen.  Set a date for your big cleaning and tell your staff to come in casual dress.  Reward your employees by providing lunch or allowing them to cut out early.
Kitchen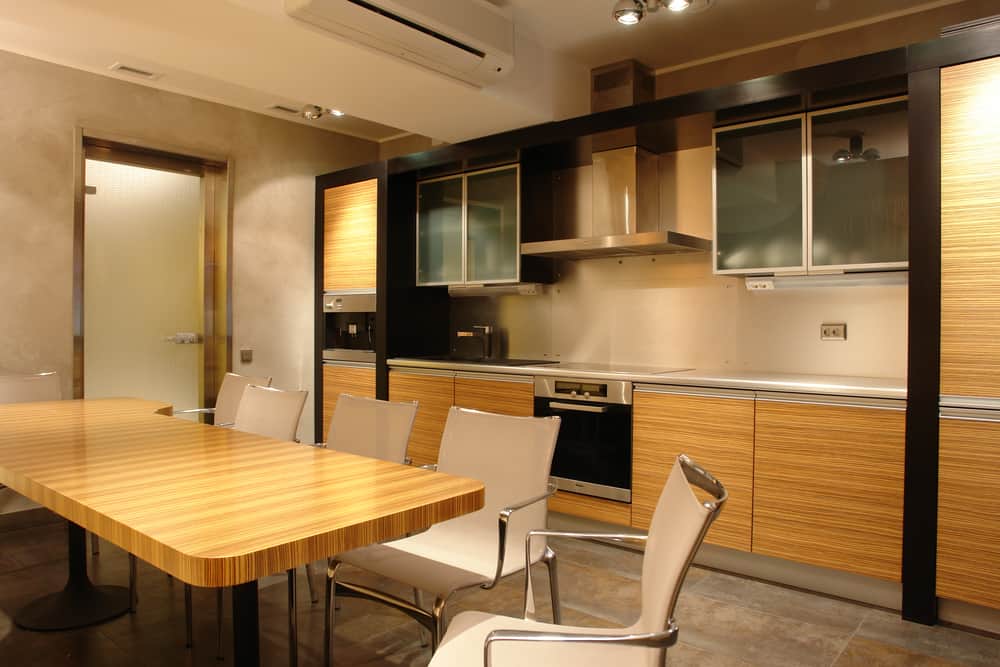 A commonly neglected area within the office space is the kitchen.  With so many different people making use of this common area, cabinets, freezers, and refrigerators can fill up quickly with unwanted clutter.  Empty the contents of the freezer and fridge, tossing items that have passed their expiration date (or that miscellaneous lunchbox that's been adorning the top shelf for the past month and nobody has claimed).  Do the same with cabinets and drawers.  Disinfect all surfaces and storage spaces and replace remaining items neatly.  Your kitchen is sure to feel refreshed after this giant purge.
Desks
Desks and tabletops littered with paperwork, office supplies, and personal effects can create an overall feeling of disorganization within your office space.  Ask your staff members to empty their desk drawers and reorganize desktops so that there is a more orderly appearance throughout the office.  You may even request that they limit personal touches to just a few items.
Paperwork
Even though many offices claim to be "paperless", let's get real.  When you work in an office space, one thing you can be sure of is the presence of paper.  It may be neatly tucked away from vision within filing cabinets, but it can still contribute to the feeling of disarray and overwhelm.  Shred paperwork that is no longer necessary to hold on to and condense the contents of your filing cabinets.  You may even ask your staffers if they have any thoughts on how to further lessen the amount of paperwork the office is generating.
Scrub
Deep cleaning your office space is quite a bit more than just organizing and tidying the kitchen.  After a long winter of closed doors and windows, the whole place can start to feel a bit stuffy and dingy.  Take the time to dust heating vents, light fixtures, and bookcases.  Rent a carpet cleaner (or hire a company) to shampoo any carpeted areas that could be holding on to the musky winter weather.  Clean both the inside and outside of windows (including dusting blinds and wiping down sills) so that the coming sunshine has a place to pour in and brighten up your space!
Go Virtual
The modern office space has created a whole different type of disorganization.  If your inbox is full of unread emails or your computer desktop is in disarray, you might want to consider a cleanup here as well.  Get rid of irrelevant emails, organize the ones you must keep into folders, and empty out spam and trash folders as well.  Rearrange your home screen by letting go of unnecessary files and replacing a blank background with a picture of an inviting summer scene.  This is a fun little way to remind you that better weather is right around the corner.
Maintenance Plan
Once your office space is clean, fresh, and sparkling, thank your staff for all of their hard work.  Then, implement a maintenance plan to help ensure that you don't have to do such a big cleanup again.  Ask your employees to be diligent about discarding unused food in the kitchen and maintaining a neat and orderly appearance on their desks.  You might even set up purge days each quarter where staff members have an hour or so of paid time to devote to cleanup.
Ready to Find Office Space in the Hattiesburg Area?
If you've outgrown your current office space, spring is a great time to step into something new!  With so many quality properties to show you, making SVN | Southgate Realty, LLC a part of your search is an obvious choice.  We are passionate about helping our clients find the right commercial real estate opportunities within our thriving community.  Peruse our database of available properties and reach out today to work with the best.