There are lots of benefits to investing in multifamily properties including, but not limited to, greater cash flow, government incentives, and overall greater returns on your investments.  Another perk to this type of commercial real estate is its versatility.  With several different potential demographics to target, your options are wide open and you can upgrade your property in certain ways to make it more desirable to particular groups.  Here are some ways to draw in the most popular audiences.
Millennials
Making up over 25 percent of the US population, millennials are an extremely safe and viable market to gear your multifamily properties towards.  The past few years have shown a huge influx of millennials pouring into the rental market, creating a greater need for an entirely different type of multifamily experience.  These renters are looking for:
Shorter Lease Terms: Millennials aren't trying to get locked into long leases that might hold them back from travel and adventure.
Online Access: Offer tenants online access to fill out applications, communicate with the management company, and pay their rental fees.  Go a step further by building an on-site media room or coffee shop with free Wi-Fi.
Eco-friendly: Use energy-efficient appliances, non-pollutant paints, and solar power.  Consider planting a community garden as well and have plenty of outdoor green space.
Focus on Health: With greater environmental awareness, has also come a greater awareness on health and wellness.  Making sure that there is some sort of an on-site fitness facility, as well as plenty of outdoor activity spaces available, will help to appeal to this demographic.
Families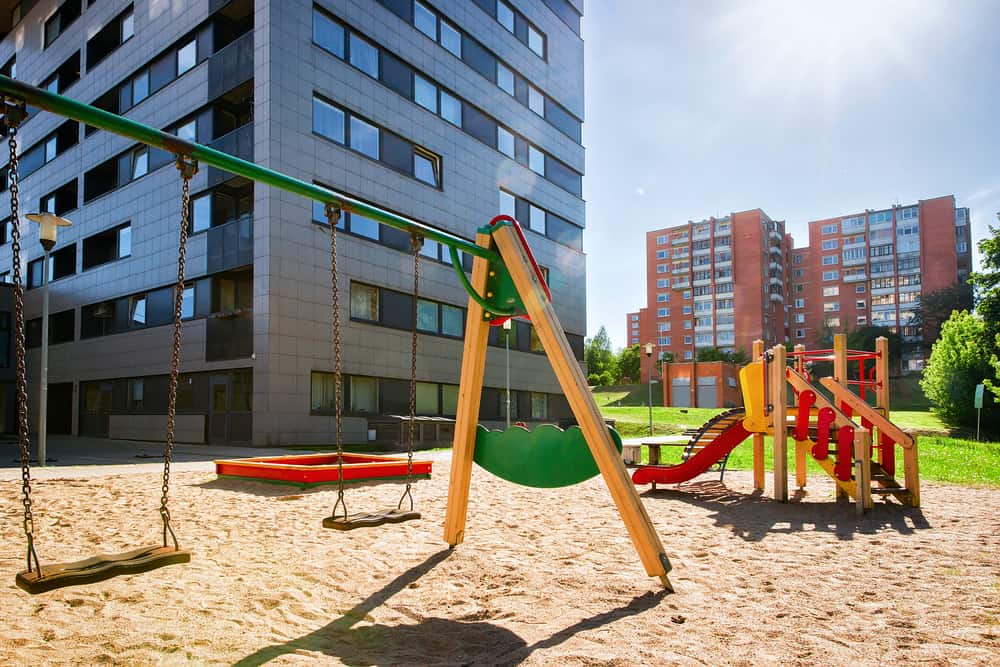 For people with children, life in multifamily properties requires an entirely different touch.  This demographic is looking for a quieter, more stable lifestyle with recreational and convenience options that will appeal to a broader spectrum of ages.
Outdoor Spaces: Focus time and energy on creating playgrounds, parks, pools, and walking paths.
Safety: With obvious concern for their families, security is going to be an important factor here.  Install in-unit security systems, offer on-site evening security guards, or invest in gated communities.
Convenience: This demographic will be looking for a property that is in close proximity to 24-hour convenience stores, grocery stores, and family-friendly dining.
Retirees
Whether you are targeting baby boomers, or older retirees, you may find that the needs are similar in these multifamily properties.  This demographic is typically downsizing to enjoy their golden years in a space that gives them leisure, convenience, security, and much less obligation.  They are looking for far less maintenance and more time to stay active and involved.  Property features you may want to include are:
Outdoor Activities: Proximity to golf courses, on-site tennis courts, swimming pools, and walking paths will appeal to this age bracket.
Low Maintenance: Retirees are not looking to spend time waiting around to get things fixed.  Offering a 24-hour on-site maintenance service is a surefire way to attract attention from this demographic.  Clean, well-kempt grounds will also escalate appeal.
Convenience: Much like families, this demographic wants easy access to things like grocery stores, medical facilities, and affordable dining.  Go a step further by offering optional delivery services, driving services, and errand services.
Community: Remember that this age bracket comes from a much more social time in our history.  Include a variety of social rooms or a main clubhouse, as well as easily visible bulletin boards where tenants can post social events, clubs, et cetera.
Luxury Living
Luxury apartments make up an entirely different type of multifamily properties geared at a much narrower audience.  These renters are looking for all the bells and whistles and may require a much larger initial investment to get up to snuff.
Interior: This demographic will be looking for high-end finishes, wood floors, stainless steel appliances, lots of natural light, high ceilings, and anything else that will make the interior of their home more visually appealing.
Amenities: Luxury living will often mean rooftop pools, on-site dining, tennis and basketball courts, concierge services, or even on-site entertainment.
Security: Being that these tenants will likely be paying a much higher price tag for their units, they will expect that investment to be safe and secure.  A 24-hour front desk or doorman, as well as higher-end security systems and cameras should be installed throughout.
Looking for a Multifamily Property Investment in the Hattiesburg Area?
With so many different directions you could take your multifamily property in, it's important to have a trusted and experienced real estate brokerage working with you.  Since 1980, SVN | Southgate Realty, LLC has been delivering unmatched service and support to investors worldwide.  Our high standards have earned us a positive reputation throughout the Hattiesburg community, and we want to show you why.  Browse our huge database of investment properties today and contact us to get started on your search!