If your company is growing and it's time to upgrade to a commercial office space, there are some important points you will want to know to make your space run successfully.  The key to your continued prosperity is to set up a workspace that promotes productivity and that fosters valuable input from your employees.  Read on to discover some easy tips to setup your office space for success and keep your company thriving.
Setting Up Your Office Space for Success
When you initially design your commercial office space, you will want to pay close attention to your workspace set up.  Depending on the nature of your business, your requirements may fluctuate a bit, but overall, you will want to create a floorplan that promotes communication and keeps your office employees comfortable and focused.  Cubicles are quickly becoming a thing of the past, being replaced with more open settings and shared office space.  Some offices are even choosing to incorporate desks that convert from seated to standing in an effort to beat the midday energy drain that so many office employees experience.  Offer your employees' spaces where they may commune at designated times throughout the day, such as employee break rooms, lounges, or meeting rooms.
Daily Meetings
Commit to starting the day in your commercial office space with a staff meeting.  Getting your employees together is a great way to offer some inspiration and to let them know of any changes or expectations that may be coming up.  A staff that doesn't feel like they are being left in the dark is much more likely to go the extra mile.  A morning meeting is also a great way to gauge the general tone of your staff day to day.  A staff that comes in sluggish and lethargic may benefit from a bit of morning stretching and moving, while a staff that's more wired and antsy could benefit from a mellower environment.   Having this morning soiree also gives everybody a chance to settle in and wake up, rather than being thrust headfirst into work the moment they walk through the door.
Daily Breaks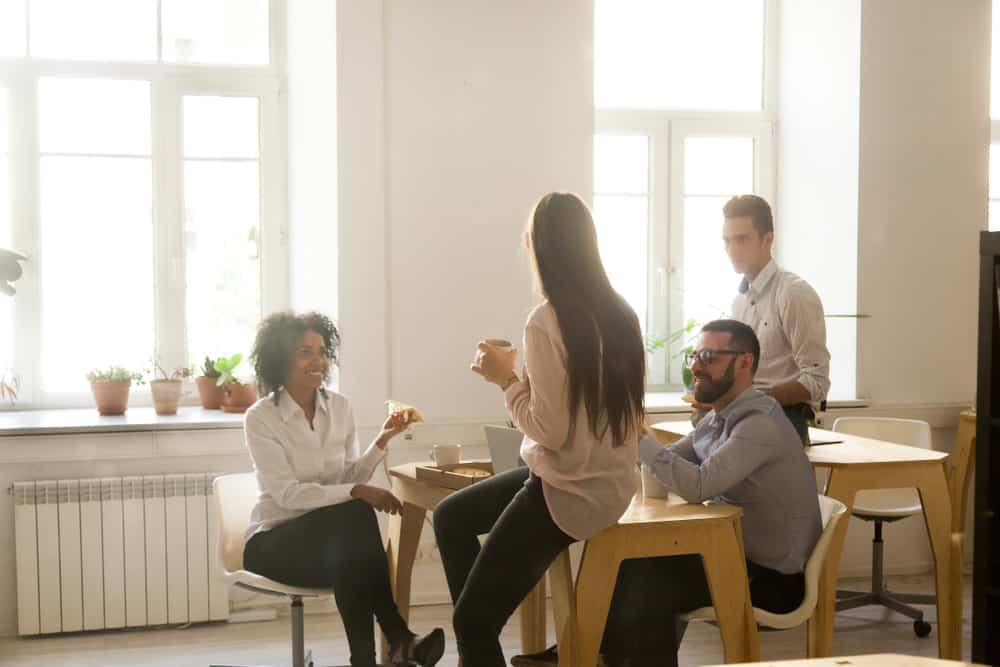 While this may initially seem counterintuitive, it has been proven time and time again that a happy staff is a much more productive staff.  Creating a routine in your commercial office space that includes frequent short breaks where staff members can get up, move about, and interact with one another is imperative to your success.  Not only does it keep your staff smiling, but it also encourages creativity as coworkers discuss and bounce ideas off of one another.
Offer Snacks
If your commercial office space has a staff kitchen or break room, keep it filled with healthy snacks.  A hungry employee is not going to have the energy or positive attitude that is required to put forth their best work.  Stocking your office with healthier options is a great alternative to the traditional vending machines that offer sweet, salty, and fattening foods that will only serve to encourage sleepiness and lethargy among your staff.
Offer Incentives
Again, it cannot be said enough how important it is to have a staff that respects you, likes you, is happy working in your commercial office space, and feels appreciated for all that they do for you.  A great way to show your staff how much they mean is to offer simple incentives.  This might mean dress-down Fridays, monthly chair massages for employees that exceed expectations, or weekly yoga classes that your staff can attend if they are caught up on their work.  Again, a happy employee means a positive and productive work environment.
Make a Suggestion Box
A big complaint in the commercial office space environment is that staff does not feel heard.  Change that by implementing a suggestion box and encouraging your staff to submit their great business ideas, requested changes, suggested improvements, or other helpful comments anonymously.  Not only does this help to enforce the idea that your staff is valuable, but it also can help business in the long run, as you never know what amazing ideas your staffers might come up with!
Looking for Commercial Office Space in Hattiesburg or the Surrounding Area?
Now that you're ready to continue your success, it's time to find the right commercial office space for your business's needs.  At SVN | Southgate Realty, LLC, our dedicated team has been connecting our clients with quality properties for 37 years.  We have a huge database of commercial office space available in the Hattiesburg area and we would be honored to help you find your perfect office.  Take a look through our properties today and contact us to get your search started.