Premier Multifamily Investment Opportunities in the Hattiesburg Area
If you're looking for premier multifamily investment opportunities in Hattiesburg or the surrounding areas, we've got a few gems that you won't want to miss!  Here are a few of our favorite properties currently available.  If you see something that intrigues you, don't wait!  Contact us today because these properties won't be on the market for long!
The Valley Building
Just steps away from the Mississippi River in the heart of Downtown Vicksburg, this building offers stunning views from each of its 6 stories.  Deemed a historical landmark in 1910, the site was originally built in 1881 as the headquarters of the Valley Dry Goods Company.  Converted to a set of modernized corporate apartments, this is an investment opportunity that you truly don't want to miss!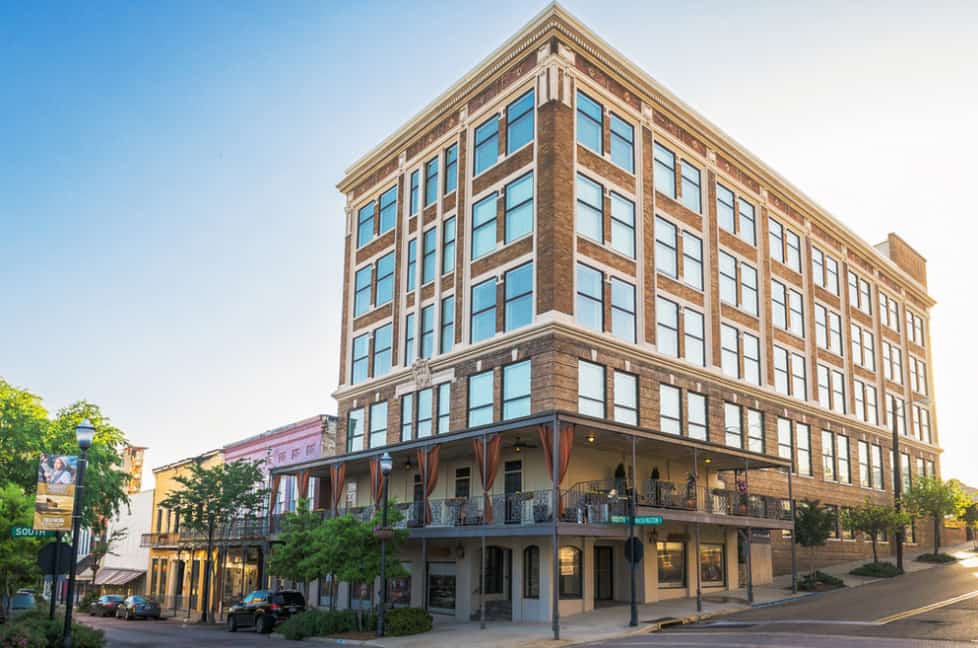 The Valley Building is comprised of a 7,451 square foot ground-floor space that could be used for retail space, office space, or split to accommodate both.  The second floor is a similar setup, though it is only 5,925 square feet.  The four upper floors consist of 20 loft-style apartments, all of which were renovated in 2008.  With a highly motivated seller and a negotiable price tag, there's no reason that you shouldn't tour this property today!
Saxony Apartments
Located just across from the University of Southern Mississippi, Saxony Apartments is one of the multifamily investment opportunities in Hattiesburg that won't be available for long.  Comprised of only ten units, Saxony is ideal for first-time multifamily investors who are looking to get their feet wet without the overhead and time constrictions that come with investing in a larger multifamily community.  Built on a 17,042 square foot lot in 1966, the 5,239 square foot building boasts ten units of varying size, all 1-bedroom and 1-bath, and approximately either 502 square feet or 562 square feet.  This property is competitively priced at $295,000 in a market that has been consistently growing (and shows no signs of slowing down due to its ideal location next to campus).  As an extra bonus, the buyer will also have the opportunity to purchase the adjacent rental house at 506 North 25th Avenue for an additional $85,000.
Eagles Ridge Townhomes
Another great multifamily investment opportunity for first-time investors is Eagles Ridge Townhomes!  Not only is this property one hundred percent occupied, but there is also lots of room for expansion down the line, as purchase of this property includes ownership of the undeveloped adjacent lot (which is zoned R-2, suitable for single-family attached or detached buildings).  Add to this the property's prime location, less than two miles from the University of Southern Mississippi campus and a short drive from Highway 49 and I-59, and you can see what makes this property so appealing.  Built in 2008, the current structures are on a 1.8 acre lot and are approximately 3,360 square feet.  The two separate buildings each contain 4 bedrooms and 4 bathrooms.  There's also plenty of room for parking!  With so much room for expansion, now is the perfect time to make this property your next investment!
Investing in Multifamily Property in Hattiesburg
Now is a great time to become a multifamily investor in the Hattiesburg market.  Why?  Well, for one thing, being an owner of multifamily property helps to ensure greater cash flow, as you are collecting rents from more than one unit.  Additionally, rental demand is at an all-time high, with both millennials and baby boomers flooding the multifamily market, making multifamily a relatively safe investment.  It's also easier as an investor to secure funding for multifamily properties, largely due to a combination of both of these facts!  Being a multifamily investor also puts you in line for a plethora of tax deductions not necessarily offered in other types of investment properties.  If you're new to commercial investing, multifamily is also a great way to begin to segue into the market.  While it's vastly different then investing in single-family (as all commercial real estate investments are), it also provides the easiest transition if you already have experience as a residential landlord.
Interested in Learning More About Investment Properties in Hattiesburg?
If you're ready to take your investment portfolio to the next level with a multifamily property, work with the team who will walk you through the process from start to finish.  At SVN | Southgate Realty, LLC, our team has dedicated the past 37 years to building solid relationships with our clients founded on trust and service.  Our company began with multifamily and we are still a leading and innovative force in the Mississippi multifamily real estate market for good reason.  Take a deeper look at our available multifamily properties today and reach out to work with the best!