How to Make Your Commercial Office Space Comfortable for Employees
When you start searching for a commercial office space, you will likely focus on budget, size and functionality. While these features are very important, especially to a business owner, there are many other factors to consider as well. You also want to make sure your employees will be comfortable in your office space so they can be as productive as possible. High productivity in employees will likely lead to optimized success for your business. This is why you should look for specific features when searching for a new office space. Let's discuss what these factors are in this blog post.
Temperature Control
In the office space you decide to lease or buy, you want to make sure you have control over the temperature. While this may seem insignificant, temperature has a large effect on the way people work. If your employees are uncomfortable with the temperature being too hot or too cold, they are likely to be less productive. Believe it or not, office spaces that are too cold lead to more errors being made when typing and less time working. On the other hand, an office space that is too hot can contribute to being uncomfortable and sluggish. It is recommended that office temperatures are set between 76 and 78 degrees Fahrenheit, as those are the temperatures employees show to be the most productive. This is why you want to make sure you or your managers will have control over your office's temperature. You should also double-check that the HVAC system in the office works properly and efficiently. It is a good idea to ask how new the equipment is and how often it has been serviced in the past. This will give you a good indication for when you will need to purchase a new unit.
Invest in Comfortable Furniture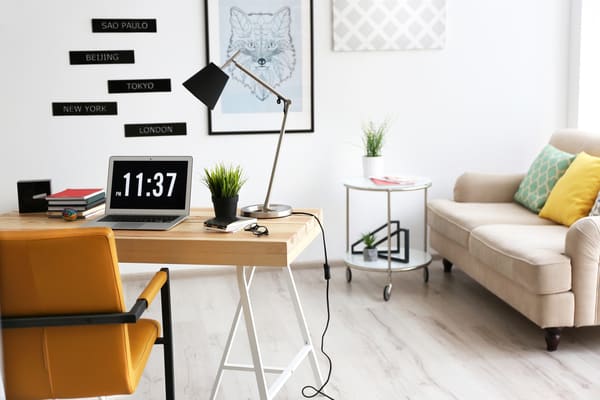 Having comfortable furniture for your employees is another important thing to consider when looking at different office spaces. While a vast majority of spaces do not come with furniture, you should make sure the office spaces are large enough to fit comfortable furniture. You don't want your employees to feel cramped or uncomfortable in their offices or cubicles. But you should also make sure the space isn't too big for any furniture to fill. Once you make your office purchase, you will need to purchase comfortable furniture for your employees to work on for eight hours a day.
Even if you get the most comfortable furniture in the world, you will have employees who prefer to stand and move around the office space. Whether this be just getting up to stretch their legs or get a change of scenery when working on a project. This is why you want to ensure there is room for furniture to be in common areas or even an extra couch near the coffee station. You do not need to invest millions of dollars in top of the line furniture, but just make sure your employees are comfortable enough to buckle down on their work.
Inviting Common Spaces
Every employee you hire will need to take a break at some point throughout their workday. Many people love when their offices have break rooms or lounges for them to socialize for a few minutes. Do your best to find an office space with comfortable and inviting common spaces. This could mean you have to invest in furniture as mentioned above, or it could mean a break room with a beautiful window. As the business owner, this is completely up to you to decide. You should also double-check to make sure there are enough meeting rooms for your employees to easily schedule a meeting in for their teams. These rooms should be large enough to fit your company's average team size as well.
Outdoor Access
If you come across an office space with outdoor areas, don't take it for granted. Outdoor access at work is a favorite amongst most employees. This gives them a chance to get out of their office and enjoy the fresh air while they are working. Going outside at certain points of the day can decrease your employees' stress which can make them much more satisfied with their jobs. If you decide to purchase or lease a commercial office space with an outdoor area, encourage your employees to use it. Purchase some benches, chairs, and other outdoor furniture to allow them to work outside. You can also have some flowers or plants put in to bring some color to the space. Your employees will thank you when they feel free to work outside and get some sunshine.
Pay Attention to Lighting
The harsh, unnatural lighting often seen in office spaces is just unenjoyable. After sitting in a closed space under those lights for eight hours a day, five days a week, they can get dull and cause a headache. We were meant to be in natural light, not the fake fluorescent lighting. So, try to find an office space that offers great natural lighting that most people can experience. Many times, some offices in one building will have windows while others rely on light bulbs to be able to see. For the employees who do not get a chance to have natural lighting, try to use compact fluorescent light bulbs (CFL bulbs). These bulbs look and feel much more natural and are less likely to cause headaches for your employees. When you do this, you will be enabling your employees to be much more productive and more comfortable.
Decorate Properly
Many business owners opt to hire a commercial interior designer to decorate their office space. Interior designers have great knowledge of how colors and decor affect employee productivity. For example, harsh colors like orange and yellow can make people feel on edge after a period of time. Blues and greens are usually the preferred color for office spaces, as they are comfortable and calm colors. Having decorations like wall art and accent pieces that match these colors are a good idea as well.
In addition to the color of your office space's decorations, you will want to purchase the right organization tools for your employees. Things like shelves or filing cabinets are a crucial part for staying organized at work. Feeling as if you are constantly surrounded by clutter is never enjoyable, so this is why you should consider investing in organization tools for your employees.
Great Flooring
Another important factor to note when looking at different properties is the flooring. As mentioned above, colors are very important to ensure your employees are comfortable. The quality and type of flooring are also very important. Ripped up or damaged flooring can be frustrating to your employees, so you will want to make sure your office space has flooring that is in good condition. The safest choice for flooring is to go with commercial carpet or engineered wood. Both of these options look great, are low maintenance, and are usually less expensive.
Be Open to Suggestions
When you are purchasing a new office, be open to suggestions from your employees. A quick survey that allows your employees to stay anonymous can let you know how your employees truly feel about their office space. They can tell you what they do and do not like about the space. This feedback will be very helpful for you when trying to make your office as comfortable as possible to encourage more productivity.
Searching for Office Space in the Hattiesburg Area?
Now that you know the important factors to look for when trying to make an office space more comfortable, you are ready to look for your perfect office. Working with a commercial real estate broker who can help you find the perfect office space will make the process much easier. At SVN | Southgate Realty, LLC, we are committed to helping our clients find the very best office spaces available on the market. We are dedicated to making your experience enjoyable and easy from start to finish. Take a look at our properties today and call us to get started with your search!