A lot has changed in our group think mentality over the past couple of decades when it comes to the use of marijuana.  From California becoming the first state to legalize it for medicinal purposes back in 1996, to Colorado and Washington approving it recreationally in 2012, more and more states are adopting laws that normalize marijuana as an accepted and, in some cases, even beneficial part of our culture.  In fact, there are currently 33 states that have approved the use of it medically, and 10 states that allow for its recreational use.  This nationwide trend has had a huge impact on the commercial real estate market, particularly when it comes to industrial real estate.  While many of these impacts have been incredibly helpful for investors and owners, there are some downfalls as well.  Let's take a look at both sides of the spectrum.
Increase Value
The legalization of marijuana has allowed a previously underground industry to seek out the light.  As more and more growers,manufacturers of marijuana products (such as CBD oils, candies, and more), and distributors come out of the woodwork, there is a growing demand for available industrial real estate.  The reasons for this are many.  For growers and manufacturers alike, industrial warehouses offer the vast amount of space to house a lot of plants, the ability to control the climate, and have the necessary privacy growers are looking for.  They are also easy to secure.  The driving demand for these types of properties, however, has also greatly increased their cost.  The reasons behind this go further than just the obvious supply and demand though. With federal regulations regarding the transportation and dispensing of marijuana not in full alignment with state laws, landlords run a greater risk of running into trouble when it comes to their tenant's business practices.  This has skyrocketed rents in this branch of commercial real estate to well above market value.  For landlords, this means more money in your pocket (if you're willing to take the risk) and for tenants, this means a heftier price tag.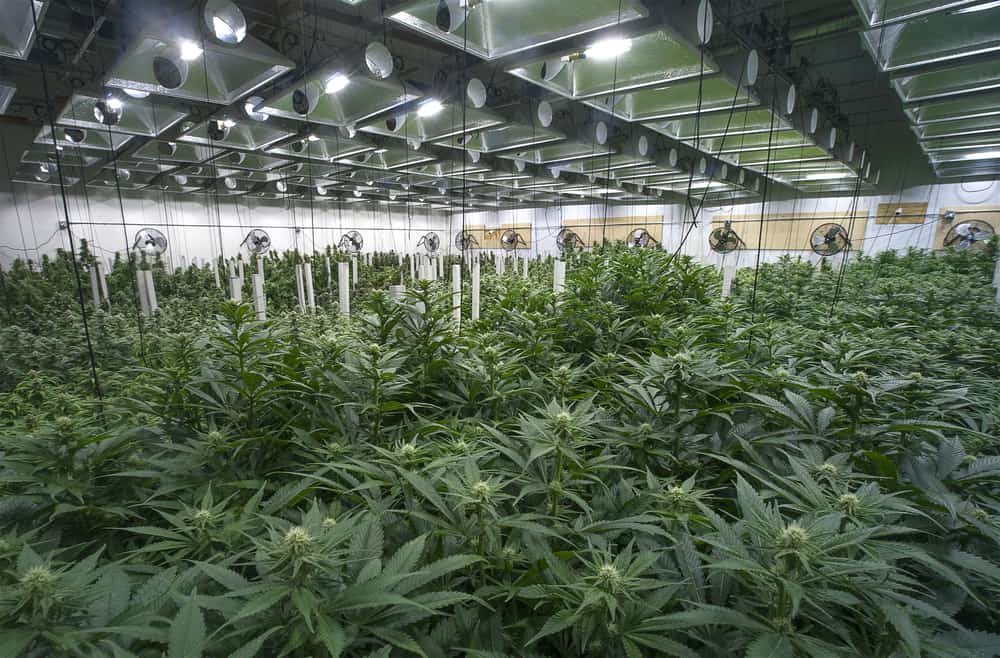 Greater Risks to Both Landlords and Tenants Alike
As we began to touch on in the last paragraph, renting out industrial real estate for the use of anybody involved in the production or distribution of marijuana and/or marijuana products comes with its own set of risks.  In addition to the one we just mentioned, there has been a huge increase in industrial explosions since the boom of the marijuana industry.  This is due to the growing manufacturing of hash oil (a concentrated form of THC).  In the process of making hash oil,manufacturers must use butane, which can easily lead to explosions.  For this reason, running a business of this nature could incur greater costs to both the property owner and the tenant when it comes to insurance. 
Marijuana facilities are also known to be hard to turn back into anything else.  Odors from the marijuana can easily get trapped in the walls and can be nearly impossible to eliminate. There is also a much greater risk of developing mold issues, as the growing of this plant requires a lot of water. 
Revitalizing
To get back to some of the more positive effects that the legalization of marijuana has had on the commercial real estate market, let'stalk about how it has revitalized some areas. With a lot of industrial real estate tucked into some of the seedier parts of our towns and cities, the growing need for these spaces is beginning to transform these areas.  As businesses grow, more employees come, leading to increased need for nearby storefronts,restaurants, gas stations, and access. This has many cities pouring money into these rundown areas to make them more attractive to new tenants. 
Filtering into Retail Real Estate
The marijuana industry hasn't just affected industrial real estate either.  It's rapidly extending to growth in the retail sector of the CRE market as well, as new storefronts open up daily to distribute the products being made in the warehouses.  All in all, while there are both pros and cons to the legalization of marijuana, the impact that it is having on the commercial market is undeniable.  
Looking for a Commercial Real Estate Property in Hattiesburg or the Surrounding Area?
Whether you are an investor or buyer, looking for your next commercial property, or a tenant trying to find the perfect space to lease, we've got you covered.  At SVN | SouthgateRealty, LLC, our team of dedicated Advisors is here to make your commercial transaction easy from start to finish.  We've got the best properties the local market has to offer and we can't wait to show them to you.  Take a look through our database of available properties today and reach out to schedule a walk-through.